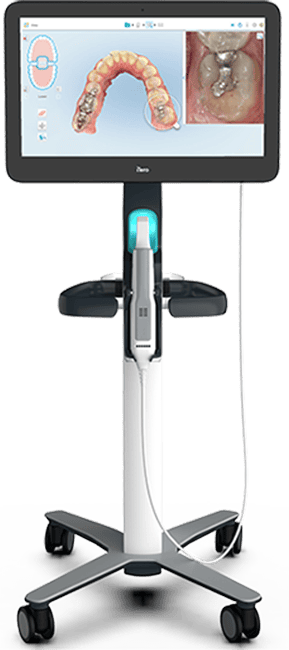 The iTero® Intraoral Scanner enables both dentists and orthodontic specialists to obtain detailed 3D digital impressions of a patient's teeth and occlusion to deliver the most precise, efficient, and comfortable care. A guided scanning process using an ergonomically designed wand captures and integrates multiple intraoral images from every angle to generate highly accurate 3D impressions. The iTero Intraoral Scanner provides a far more pleasant office experience for the patient than the conventional methods of taking dental impressions.
Compatible with multiple digital systems, the iTero Intraoral Scanner allows for the seamless and efficient generation of dental models for the custom fabrication of dental prostheses such as crowns as well as orthodontic aligners. With the iTero Intraoral Scanner, the practitioner consistently obtains more precise information for more predictable results and better outcomes of care.
See what the digital age of dentistry can do for your teeth.
Our iTero Element® scanners give you a complete picture of your oral health in about a minute.*
iTero oral digital scans make it easier to visualize, monitor, and track your oral health over time
An on-screen simulator shows a side-by-side view of your teeth today, and how they could look after treatment
A colorful 3D image of your teeth can help you better understand your diagnosis and treatment options
Get your teen ready for something new to smile about.
Our iTero Element® scanners give teens an all-digital experience from beginning to end.
Advanced digital technology helps them prepare, visualize, and monitor their Invisalign® treatment
An on-screen simulator shows a side- by-side view of their smile today, and how it could look in the future
The amazing all-digital experience keeps them engaged every step of the way
Contact Us Today